Post by willydigger. FB inFamous on Jun 30, 2013 8:50:48 GMT -8
ATTENTION!
Added Sales thread to the Craftsman forum.
edcsociety.net/thread/58/willydigger-wabi-skulls-sales-thread
Hopefully this will make it a little easier to see what is currently available. I didn't want to change the first page of this thread since it chronicles the evolution of design that I think is really cool.

ATTENTION 2!
Instead of creating another thread, I've added other NON-skull carvings to this thread. They start around page 10. They include tiki's and some animal figurines including the Gorilla King!
---
PIC HEAVY!
I was visiting a forum dedicated to Candle Power and was reviewing a thread taking about the CQG-S1 AAA light, when a member posted a couple pics of a Starlingear Skull Bead. I fell in love with the particular design and inquired. Unfortunately like most things I love, they are extremely expensive (Skull Bead, Ku 44DD, my wife).

So I decided WTH, let me try and design one in wood. I have some artistic skill and a Dremel, so lets do this.
First lets look at the (Discontinued) Curby Starlingear Skull Bead: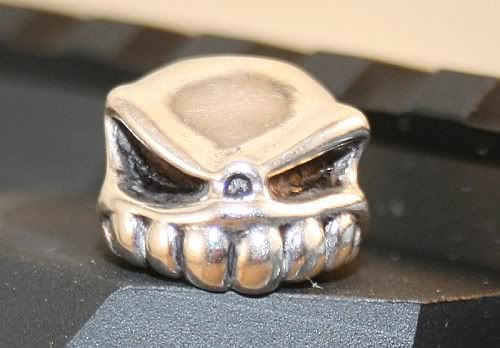 With CQG-S1: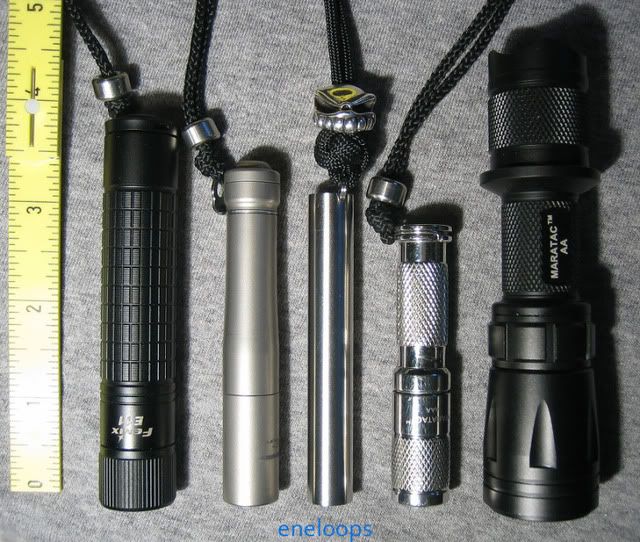 After a few hours with a Dremel and some
small
engraving bits my first try, Skull v.1 (with burnt finish, chilling with my Spotlight Speck):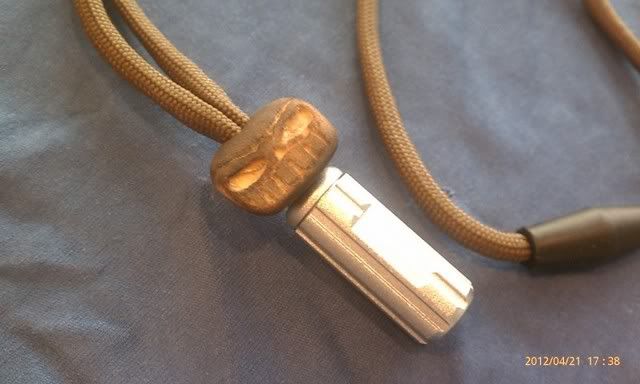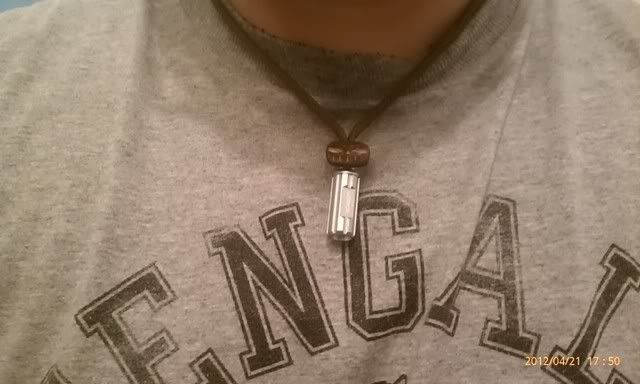 Never satisfied I decided I could do better (Skull v.2):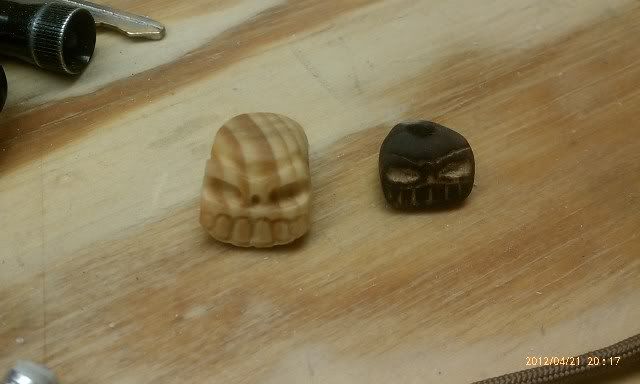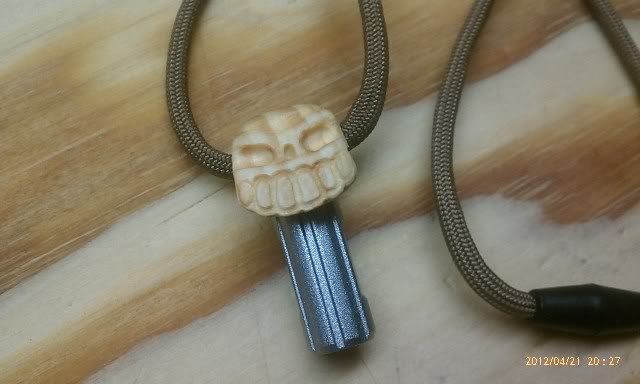 Getting creative I decided to try a different type (Boba v.1, chilling with the Spydie Cat):
And a larger Skull (Skull v.3):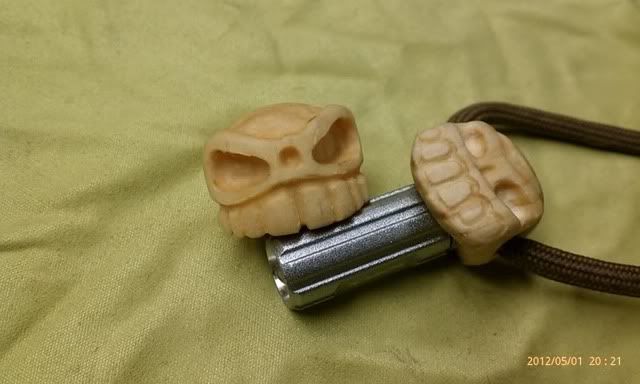 Still not satisfied, I decided to get a few new tools. I traveled to Home Depot and Lowes for some new bits. I bought the Engraver Kit and the Dremel Flex Shaft (I was tired of getting wood dust blown in my face).
Back to the Skull, still aiming to perfect a wooden Curby style. (Skull v.5 with Amber Schellac):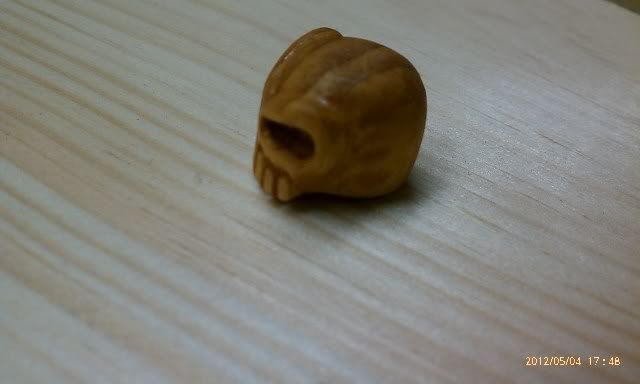 And finally the line of evolution including Skull v.4!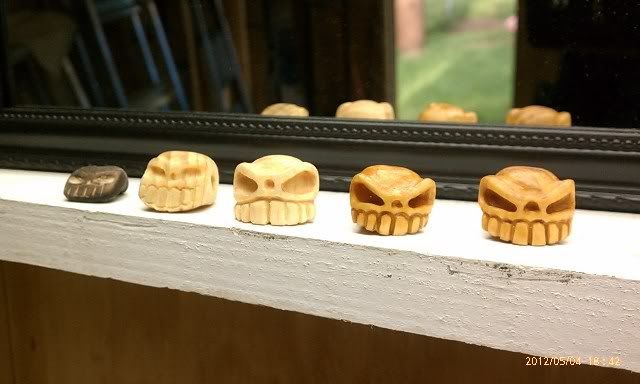 Can't leave Boba out!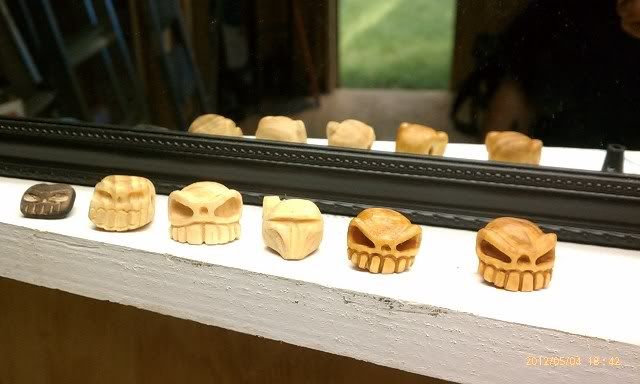 At this point, I'm seriously considering building a mold and casting Skull v.5 in pewter. Granted if I decide to do that I will have invested the same amount of money that I would have spend on the Starlingear Curby!
This may sound weird, but the only problem with a cast, is that each skull will be the same. With the wood, each skull is different. Skull v1 fresh out of the coal mine, v2 ran into a wall, v3 gopher teeth, v4 and v5 are pretty close to ideal though there are minor teeth and eye differences! It makes each one special. Dumb I know, but unique in their own way.
Hope you enjoyed the pics.
ATTENTION 3!
: Not that anyone reads this stuff. I have not, nor will I ever recreate a Starlingear bead or other beads that's I'm aware of. It's not cool. Don't ask, the answer is nope.