Post by willydigger. FB inFamous on Aug 12, 2013 18:57:33 GMT -8
This past February I contacted Kevin King on USN about having a custom leather wallet made. He is a pretty popular custom maker on USN and there are windows where his services are available. I sent him my idea and very quickly he returned some proofs and pricing. The proofs were computer draw and very basic. Leather types were briefly discussed, but I got the impression that he ultimately decided on what the best material would be.
After several email exchanges I placed the order. The specific wallet design is called the Fast Eddie. The price was $300 (paid in advance). Kevin said, custom work required payment in advance. I understood and complied without issue. The time estimate was 8-10 weeks.
8-10 weeks came and went. I sent and email in week 14 with no reply. Sent another in week 20 (July 29) and got a reply that he was starting the wallet in a few days. It is what it is, but if you order, be prepared for a long lead time.
On Aug. 8, Kevin sent pics of the final piece. I asked for the Serenity logo on the front with a pic of Serenity in the liner. Here are the pics I sent.
The Serenity Logo on the front.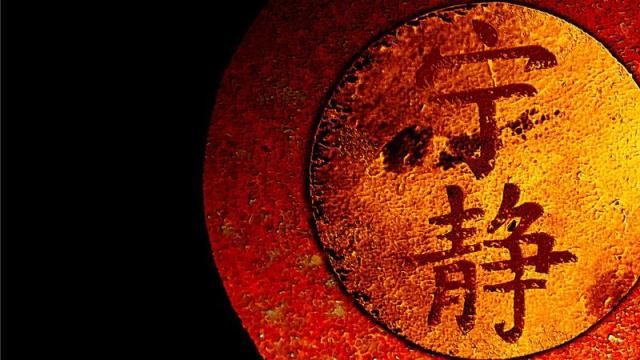 The wallet made from distressed brown leather. Similar to this KK version.
The liner, a pic of Serenity.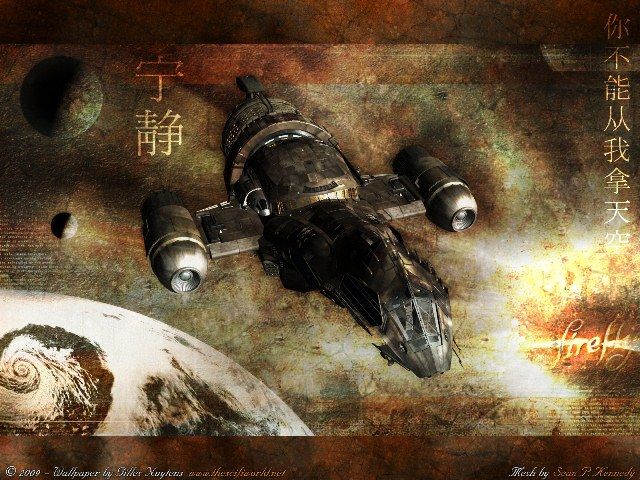 Here is the final piece. Nicely wrapped in a Tootsie Roll bandana.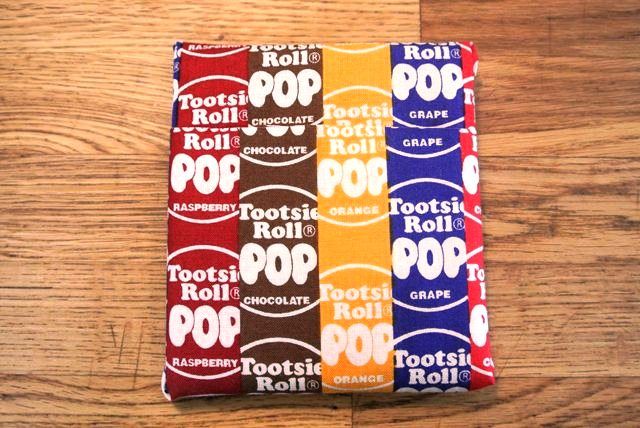 The yellow is Ostrich leather. The orange and red to the left is lizard. The rest bovine.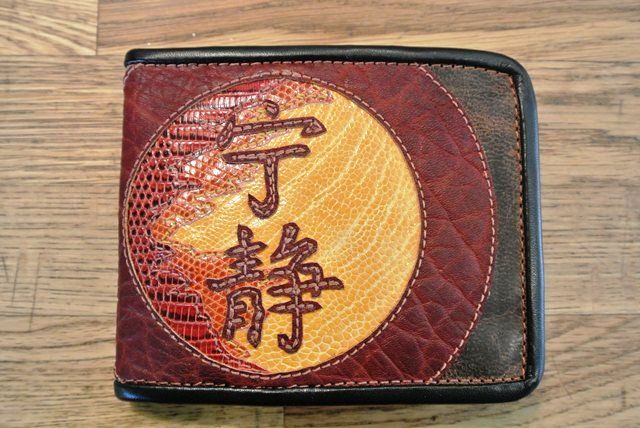 Very nice distressed leather base.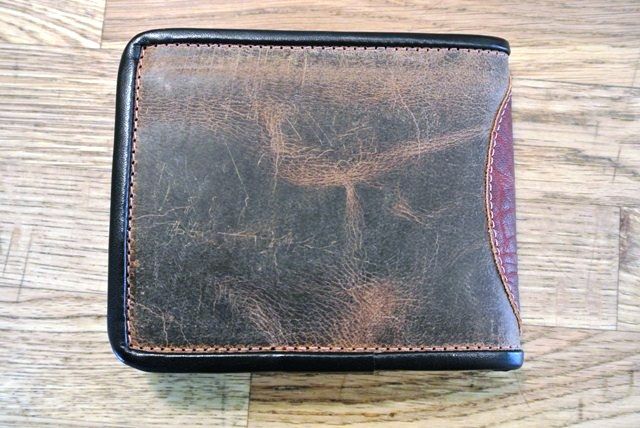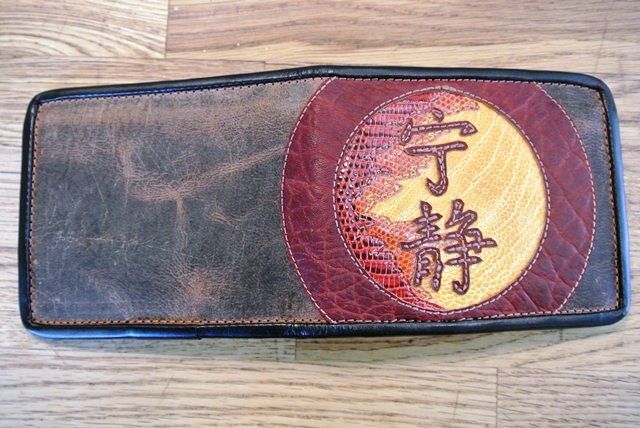 He only does black interior. I wanted brown of course, but this was established up front and I accepted it. I still would have preferred brown, but the black is fine by me.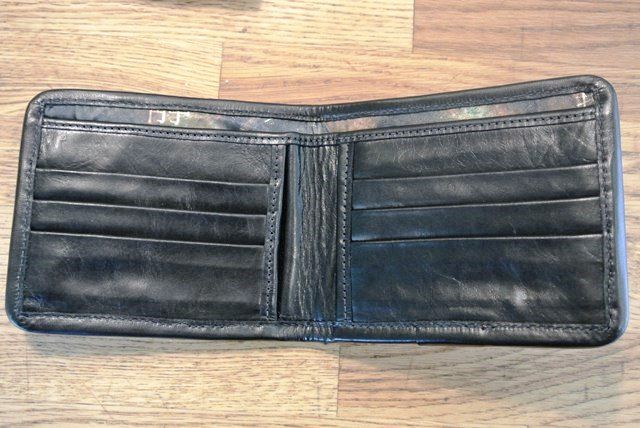 The liner was darker than I expected, but still very detailed. It has a very slippery feel so I don't expect much wear. The detail is great.
Close ups.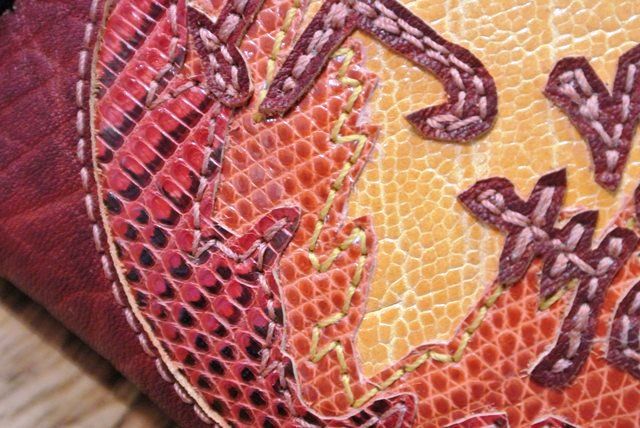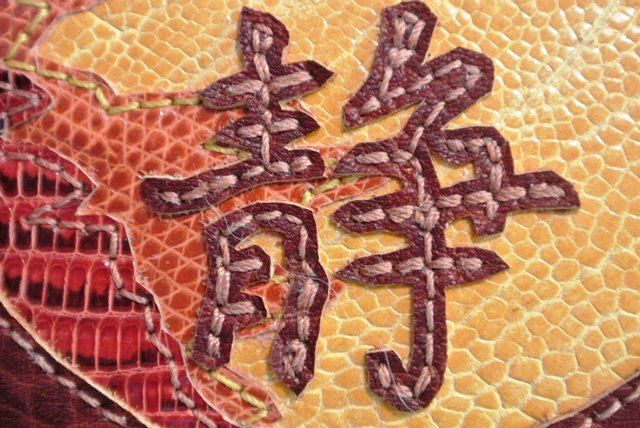 Compared to my $15 Walmart wallet. Slightly larger and heavier, but pocket wear isn't noticeable.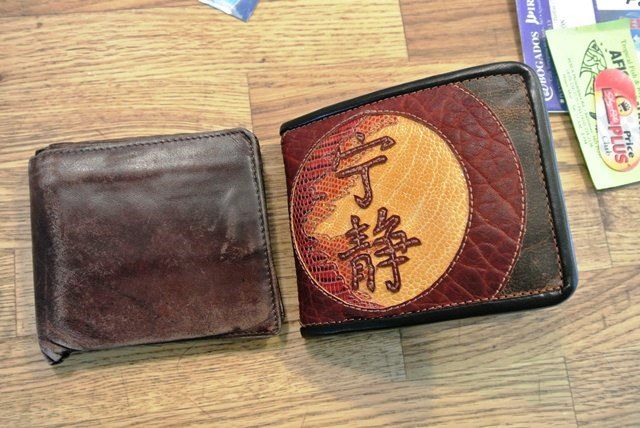 Here are my final thoughts. Kevin is a nice guy. Communication up front was great A+. Communicate after the projected completion date was an F. I have high standards. I would communicate better and I've dealt with other custom makers that communicate better.
Concept from pics to actual was a B+. This is based solely on price. Not that B+ rating is necessarily bad, but I would have liked the maroon ring to have some texture not a perfect circle. It contradicts the chaotic inner pattern. The liner pic is darker than expected too. Minor nit pick.
Quality upon arrival is A+. The exotics are cool, it smells nice, the size is great and the level detail in the stitching is excellent.
Would I do it again, probably not. I think this is due to the communication and the lead time. It left a sour taste. Maybe a mistake, maybe he's really busy, I'm sure not intentional, but also pretty poor.
When I pay $300 for a wallet I expect WOW. I didn't get WOW, I got cool wallet and a good symbol of
be smart with your money
every time I go to spend my money! Understand, I'm not one of those guys to normally spend a lot on a wallet. It was supposed to be a anniversary gift for the beads (though the lead time ended up being a welcome back football gift).
All that said, if you order a wallet and don't mind a longer than expected lead time, I think you will be satisfied with the final piece. Quality and level of detail is there.